On Saturday 16th November the squadron hosted its annual Presentation Evening to celebrate the achievements of all our Cadets over the last year.
Preparations began the night before with Cadets employed in setting the considerable number of table places as over 70 people were expected to be in attendance.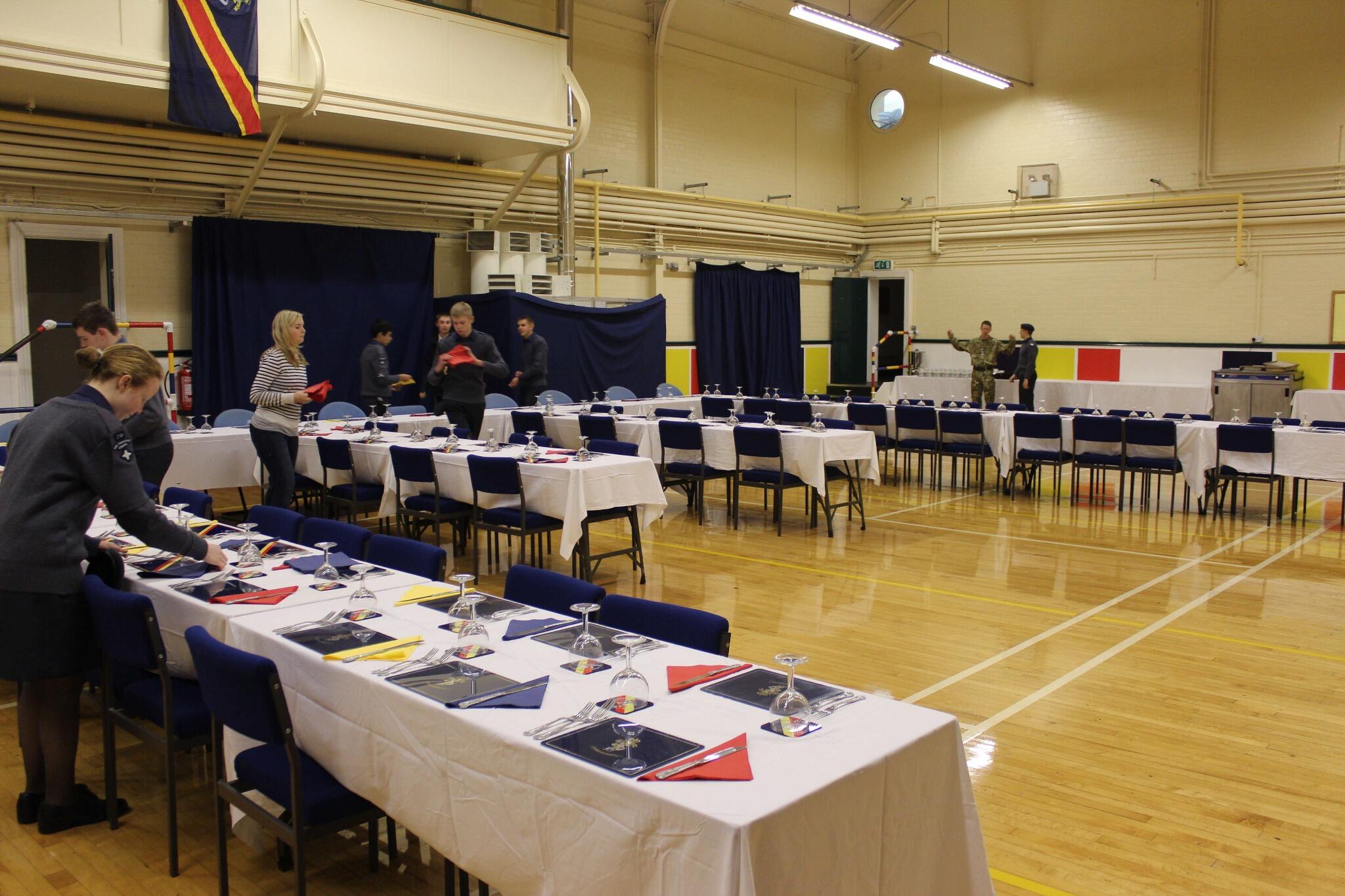 Preparations Under Way
The night itself began at 7pm with Cadets making their way into the hall from the squadron building and awaiting the arrival of the top table (from the bar). Following a welcoming speech from O/C 218 Flt Lt Green the presentations began in earnest. Congratulations to our award winners:
Cpl Webb - Best Attendance
Cdt Wood - Best Drill
Cpl
Newbould -
Commitment
to Squadron
Cpl Badger - Sporting Achievement
Cdt Wheeler - Academic Achievement
Cdt Parkin - Cadet with most Potential
Sgt Dovey - Best NCO
Cdt Plummer - Best Overall Cadet
In addition our ex Cadet Warrant Officer, CWO Roberts, and the O/C of 146 Workshop Company (TA), Major Aidy Hunt, both received a ceremonial squadron plaque in recognition of their support for the squadron.
Ex-CWO Daniel Roberts Receiving a Squadron Plaque
Major Aidy Hunt Receiving a Squadron Plaque
After the presentations had concluded the buffet began with many going back for seconds and even thirds.
The meal ended with the traditional toast to the Queen before the top table retired to the bar leaving everyone else in the capable hands of Mr. Vice.
Mr. Vice - Cdt Bracken
After ten minutes the rest of the table also retired to the bar and the night ended with a disco for the Cadets (and occasionally staff).
Our thanks go to all the Cadets who attended, the squadron staff for putting in the time and effort needed to organise the event and our special guests Major Aidy Hunt, Stewart Ellis and his wife Eileen, Lt. Cdr. Alan Dixon of the Royal Naval Reserve and Flt. Lt. Tim Smales.